Testimonials (AUSTRALIA)
We thank our patients for their valuable feedback.
All the testimonials can be verified in our 'review book' kept in the office.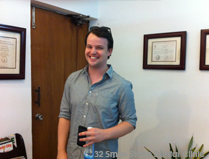 William Pederick; Australia
Thank you so much for an efficient and professional treatment. Got a dental implant placed in her office. Dr. Shivani is most efficient and of a very pleasant disposition. Have no hesitation in recommending her practice to anybody.
---
Samual Walters; Australia
Most efficient and quickest tooth cleaning and polishing I have ever had; no waiting also. I will be sure to recommend Dr. Shivani in my country.
---
Greg Anthony; Australia
Just completed Zoom Whitening. Dr. Gupta was professional at all times and her communication was excellent. Would definitely recommend her to others.
---
Amelia Best; Australia
Dr. Gupta has a lovely chair-side manner! She communicated well about various procedures and I felt like I was in safe hands with her. I feel lucky to have found her on the internet.
---